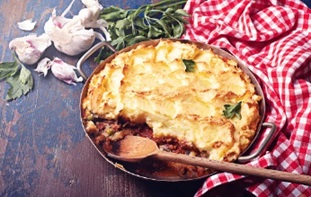 Autora: Verónica Amaro Bermejo
Shepherd's Pie
 Shepherd's Pie is primarily made from minced lamb and potatoes. Many families will make this dish using beef, but then it should actually be referred to as Cottage Pie, as shepherds only herd sheep (duh). 
Most Brits would agree that Shepherd's Pie is best eaten at home with your family and, in fact, the dish is not often served in restaurants.
 Beef Wellington
Beef Wellington is a fillet of steak coated in patê and then rolled in pastry. Although the dish shares its name with the famous Duke of Wellington, it actually shares no link with the British nobility. In reality, it is thought that Beef Wellington was based around the French dish filet de bœuf en croûte (fillet of beef in pastry).
Beef Wellington is served in posh pubs and restaurants up and down the country.
3. Fish and Chips 
Perhaps nothing is more synonymous with British food than fish and chips. But, unfortunately, this dish can often be a bit disappointing if you don't get it in the right place. A top tip is to look for chip shops that cook their fish fresh to order.
4. Chicken Tikka Masala
Although it may have South Asian roots, there's a lot of evidence to suggest that Chicken Tikka Masala was first created in Britain by a Bangladeshi chef in Glasgow. Nowadays, it's considered one of the country's most popular dishes and is served in curry houses all over Britain.
Steak and Kidney Pie 
Or any kind of pie for that matter. Whether they're covered in pastry or covered in potato, pies feature heavily in British cuisine and are the perfect antidote to the harsh British winter. 
Cornish Pasty 
A pastry stuffed full of meat and vegetables, Cornish pasties first became popular among tin miners as they were easily transportable and eaten without a plate or cutlery. Nowadays, the humble pasty plays an important part in British food culture. It's even thought that there were the inspiration for the South American empanada.
A Full Breakfast
Also known as a 'fry-up,' a full breakfast is made up of eggs, bacon, sausages, beans, toast, tomatoes, and sometimes black pudding. This hearty breakfast is popular all over England, Ireland, Scotland and Wales and is often consumed on the weekend.
Roast Dinner
The humble roast dinner began as a meal that was eaten after the Sunday church service, as the meat and vegetables could be left in the oven to cook while the family was out at worship. Today, a Sunday Roast is still an important part of British life with around one-fifth of British people sitting down to a roast every week.